CIWF
Factory Farming Must End
There's a faceless, heartless, relentless machine out there, sucking the life out of our forests and oceans. It's so powerful, the animals don't stand a chance.
All around the world, endangered species are under threat of extinction as their habitats are destroyed to grow crops. And vast quantities of these crops are being fed to factory farmed animals. We worked with DTV to help Compassion in World Farming launch a major global campaign to stop the factory farming machine in its tracks.
We created a strong identity – #StopTheMachine – and iconic graphics showing elephants, jaguars and penguins being sucked out of their natural environment into the 'Machine'.
Campaign launch
For the campaign launch at the Natural History Museum, we designed and built a bespoke exhibition stand – a vast red box which opens to reveal the horror inside. And the stand incorporates a photo op – a life-size leaping paper jaguar – which was a huge success at the launch. The exhibition toured around the UK and Europe throughout 2018.
"Together, we can Stop The Machine."Peter Egan, actor, speaking at the campaign launch at the Natural History Museum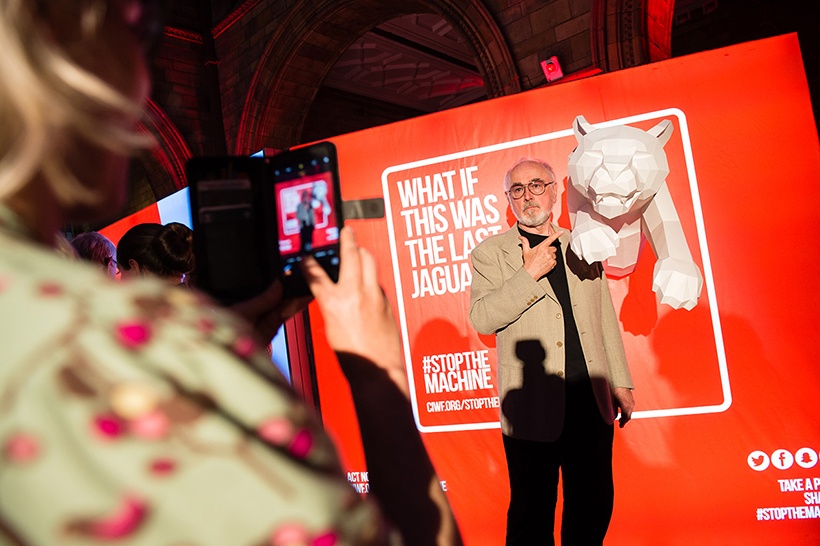 "Last night's launch went incredibly well and I was thrilled to see the level of support and enthusiasm from its attendees. #StopTheMachine is a crucial campaign that sends out a clear message: if you care about wildlife, you should care about factory farming."Philip Lymbery, CEO, Compassion in World Farming