We'll gloss over the fact that we're probably the only Vegan creative agency in London: today we're in a reflective kind of mood.
Let's go back, way back…
Three things you probably didn't know about UP
We're 100% vegan run, and we have been this way since 1984 (when soya milk came in powder form – bleugh!)
We cut our teeth working for corporates, such as Barclaycard, Royal Mail, Compaq, TSB and Thomas Cook. Ultimately we decided to stop doing that and brought this expertise to the charitable and beyond profit world.
As well as our campaign creation know-how, we also have a fully equipped film production studio in Central London. It's a great space to test out and realise our creative ideas.
We have created brands, campaigns and campaign videos for a massive range of charities, including: Save The Children, Christian Aid, The Vegan Society, World Animal Protection, RSPB, Friends of the Earth, Greenpeace, Compassion in World Farming, The Vegetarian Society, The Humane Society, Four Paws and Cruelty Free International.
Let's look at the best of our animal welfare campaigns from each decade.
1990s: Stop Animal Testing
First stop the 1990s, when grunge and faux fur was all the rage and Cruelty Free International (then BUAV) wanted to refresh their image to appeal to a younger audience and raise more funds through their merchandise range.
Using the simple slogan "Stop Animal Testing" we created three defiant animal characters to head up the brand.
We then designed and produced an extensive range of merchandise.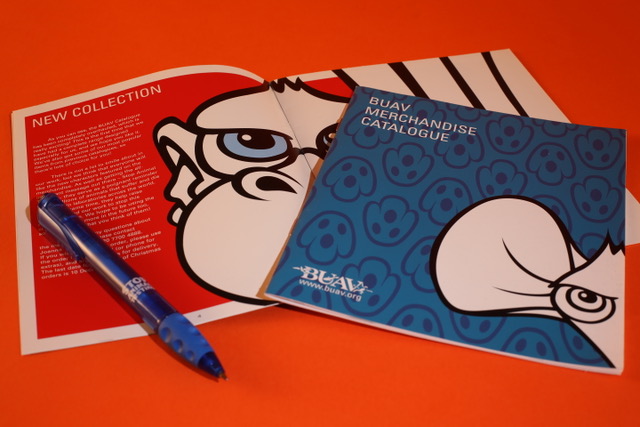 While it's hard to pin any one outcome on a long term advocacy campaign, we like to think the banning of cosmetics testing in Europe was one of the most significant wins for BUAV.
It's hard to imagine now how the idea of animals having 'rights' was such an underground concept.
Along with generating much needed income to help achieve a change in this attitude, we also like to think the campaign helped raise the bar a little on the expectations people had for an animal rights campaign, which were often crude and aggressive.
---
2000s: Handle With Care
The noughties kicked in and it was time for us to shape an important global campaign working towards an end to the long distant transport of live animals.
Working with Derek Humphries, we launched World Animal Protection's Handle with Care campaign in 2008 by commissioning a double decker bus, and filling every window with images of animals crammed inside. It was then driven across London, landing up in Trafalgar Square.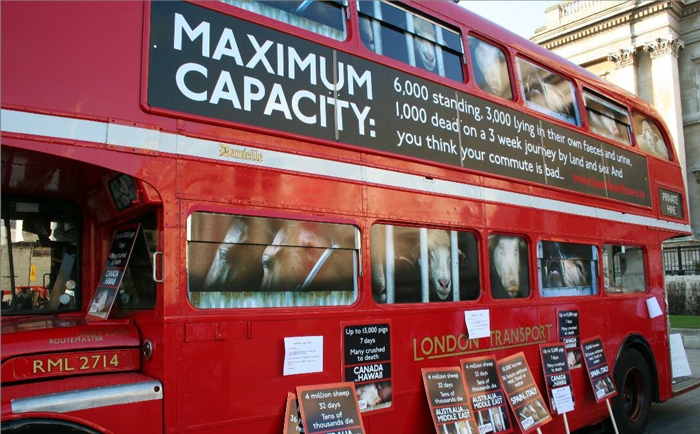 Inside the bus were undercover videos of animal enduring horrific journeys, the sounds of the distressed animals could be heard from outside. It was a powerful approach, putting people in place of the animals, asking them to feel the experience and make a connection.
The campaign highlighted four of the worst routes: sheep from Australia and New Zealand to the Middle East, cattle from Brazil to Lebanon, horses from Spain to Italy and Pigs from Canada to Hawaii.
The stunt made the front cover of the Independent
The campaign also achieved several notable successes leading to real change, including:
Removing the Misleading "Island Produced Pork" Label in Hawaii
Stopping sheep exports from New Zealand to Saudi Arabia
---
2017: StopTheMachine
Fast forward to our current decade, and alongside DTV we took on the StopTheMachine global campaign for Compassion in World Farming, highlighting the link between factory farming and wildlife loss.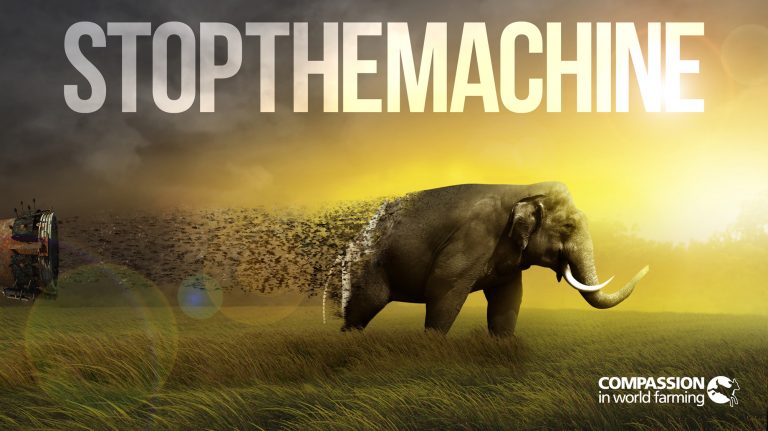 We created the name and a strong identity and iconic graphics showing elephants, jaguars and penguins being sucked out of their natural environment into the 'machine'.
To launch the campaign, we designed and built a bespoke exhibition stand – a vast red box which opens to reveal the horror inside.
The stand also incorporates a strong photo op – a life-size leaping paper jaguar – which was hugely successful at the Natural History Museum launch.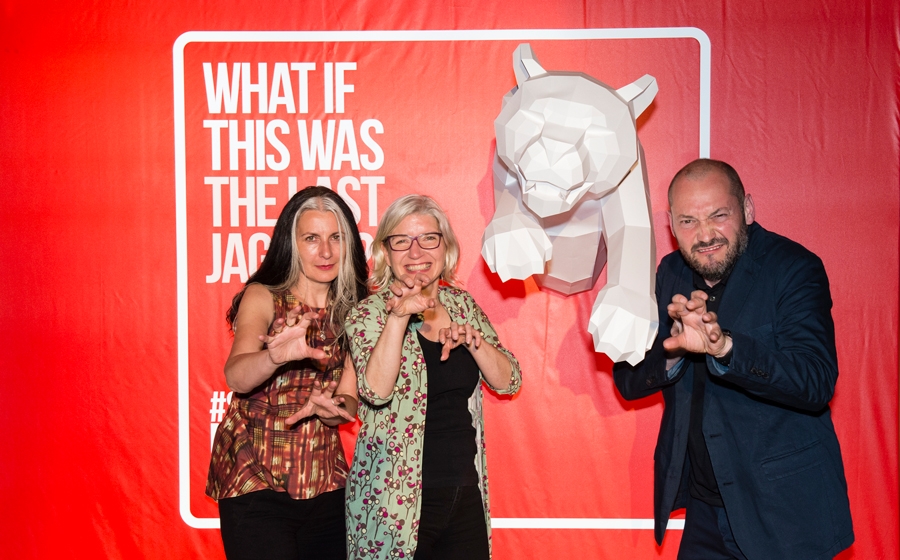 And here we are, with Gillian Egan, at the launch.
READ MORE about StopTheMachine
---
2020: The Future Normal
As so to the present day. And we are asked to design and produce the most ambitious campaign The Vegan Society have ever launched. The TV ad aired throughout November 2020 on Sky on Demand and All4, and has so far reached 1 million viewers, and counting. Here's the 60sec ad:
READ MORE about the Future Normal
---
Keep it UP
Of course there's still plenty to campaign for, so keep the UP team on speed dial for compelling Campaigns, Campaign Brands and Campaign Videos.
Call Kate on 0207 251 6787
or email [email protected]